Complete Guide to Cappadocia Hot Air Balloon Flights
Contents
The fantastic landscape of Cappadocia is best explored through a balloon tour.  From the sky, you can see the breathtakingly surreal rock formations and historical ruins from ancient civilizations. Here is everything you need to know about the Cappadocia hot air balloon flight.
Why are Cappadocia Hot Air Balloon Flights so Famous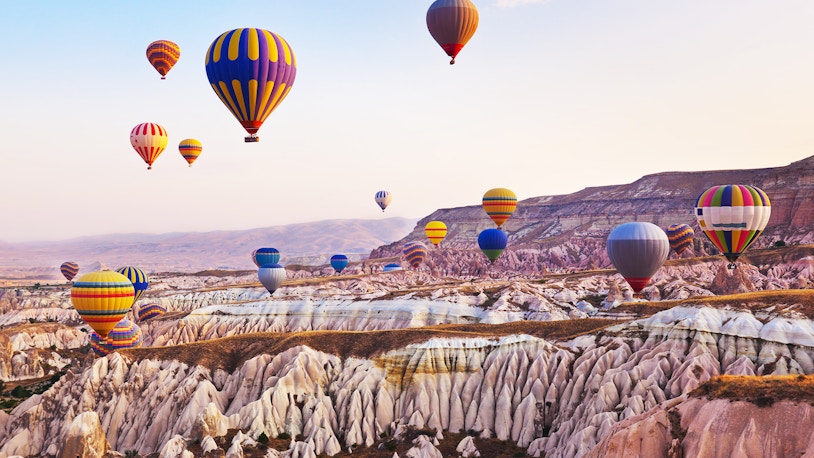 Every year, thousands of travelers come to Cappadocia to take part in the unique experience of riding in a hot air balloon over this beautiful region. The iconic landscape of Cappadocia is defined by its unique rock formations and caves, created over thousands of years from the interaction between two different types of volcanic eruptions. This makes for breathtaking aerial views that can be seen from the hot air balloon, especially at sunrise when the warm colors reflect off the rocks.
The early morning hours are also known for being the calmest, providing for a peaceful ride. Hot air balloons also provide access to parts of Cappadocia that are otherwise inaccessible due to its terrain. Whether it's the Fairy Chimneys of Goreme or the "Three Sisters" valley formation near Ortahisar, hot air balloon rides make it possible to see these stunning sights from a unique perspective.
Cappadocia Hot Air Balloon Experience
The Cappadocia Hot Air Balloon experience is popular among locals and tourists alike, so it's best to book in advance if possible. The experience usually takes between one and two hours depending on the size of your hot air balloon. From the majestic views of Uçhisar Castle to Pigeon Valley and beyond, you can enjoy a one-of-a-kind adventure and make memories that will last a lifetime.
Cappadocia Hot Air Balloon | Before the Flight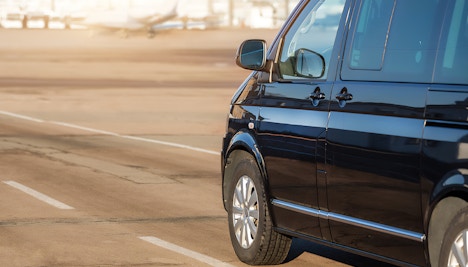 Hotel Pick-Up
All Cappadocia hot air balloon tour comes with hotel pick-up in an AC vehicle.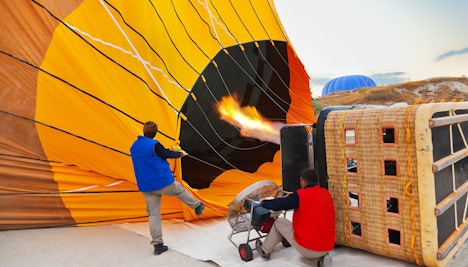 Inflating the Balloon
You can watch the balloon slowly come to life as the captain and the crew light up the burners of the balloon.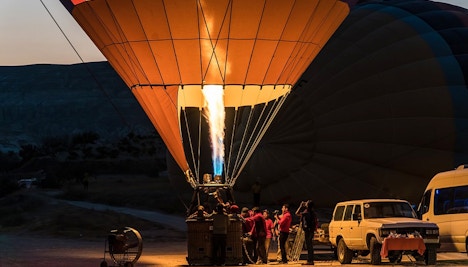 Safety Brief
Before you start your flight, the crew will give you a detailed safety brief and the rules that you need to follow after lift-off.
The Cappadocia hot air balloon flights come with Hotel pick-up. When you arrive at the launch site, you will be introduced to the crew who will accompany you on your voyage. The crew will explain the safety protocols and answer any questions that you may have before taking off. After that, they will get to work preparing the balloon for takeoff. This includes checking all systems, attaching lines, filling and heating the envelope, and helping passengers into their wicker baskets.
Once everything is ready to go, your experienced pilot will ask that you all board the basket so he can ignite the burner. After a few test runs of the flame, you will slowly ascent the majestic Cappadocia skies.
Cappadocia Hot Air Balloon | During the Flight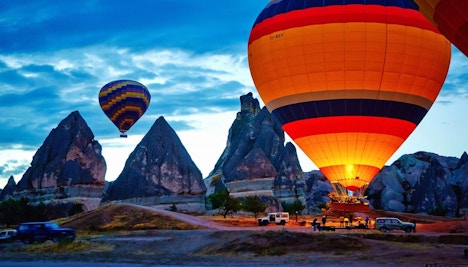 Lift Off
Once the Balloon is ready, you will board the cabin. The balloon will slowly rise and the gentle adventure begins.
Photos and Videos
While the balloon is steadily floating across the Cappadocia sky, you will have the chance to take photos and videos from the cabin.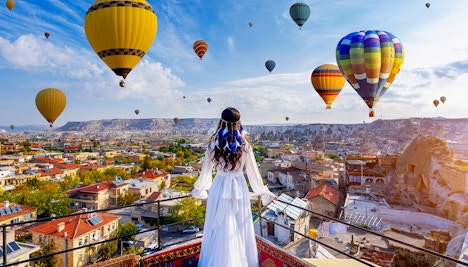 Mesmerizing Views
You will be able to see the sunrise and you will be able to marvel at the unique terrain of Cappadocia.
As your balloon slowly rises into the sky, you'll witness breathtaking landscapes, rolling valleys, and soaring mountains — all blanketed in a sea of bright colors. The light reflecting off the unique rock formations creates a magical atmosphere that's sure to leave you speechless.
Throughout the flight, your professional pilot will point out interesting landmarks and share stories about Cappadocia's history. You'll also have plenty of opportunities to take photos or even take a short break while gliding high above the clouds.
Cappadocia Hot Air Balloon | After the Flight
Non-Alchoholic Champagne Toast
Once you land, you will take part in a traditional champagne toast.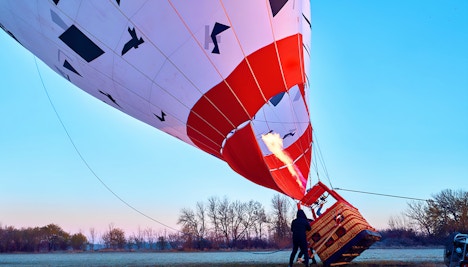 Flight Certificate
You also get a flight certificate to commemorate your hot air balloon journey.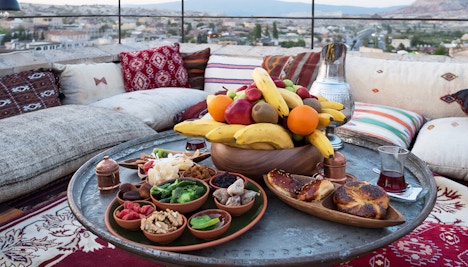 Breakfast
Our friendly and accommodating staff will offer you a complimentary breakfast after the flight.
You will slowly begin your descent after sunrise. After gently gliding back onto the ground, you'll get an up-close look at many of the remarkable rock formations that make Cappadocia such a unique destination.
At the end of your hot air balloon ride, you'll be welcomed back with a non-alcoholic champagne toast and a certificate, commemorating the experience. After the traditional champagne toast, you can enjoy a small Turkish breakfast as you reflect on your experience in the sky. You'll also have the chance to purchase souvenirs, such as photographs and videos of your hot air balloon experience.
Why Book Cappadocia Hot Air Balloon Flights here?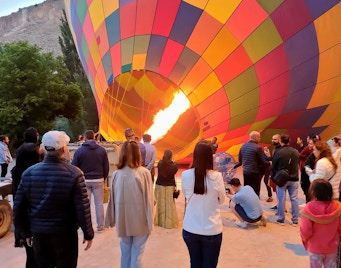 Experienced Crew
The crew is the most important part of this activity. They need to be highly skilled and experienced in order to operate the hot air balloon. The crew for your Cappadocia hot air balloon flights is very experienced. They have been flying balloons for many years and they know how to operate them safely. The crew is also very friendly and they will make sure that you have a great time during your flight.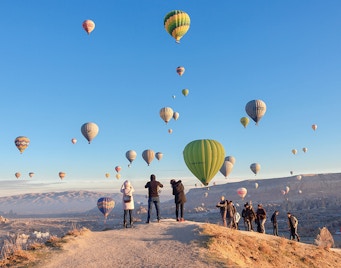 Modern Balloons
Our Cappadocia Balloon fleet is entirely composed of modern hot air balloons, featuring the latest equipment. This means that you can be sure to have a safe and comfortable experience when flying with us. Our balloons are regularly serviced and maintained to ensure that they are in top condition, so you can relax and enjoy the incredible views of Cappadocia from above.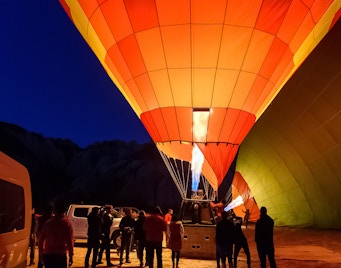 Certified Pilots
Our pilots are some of the best in the business! With years of experience and rigorous training, they know how to keep their passengers safe while providing them with a once-in-a-lifetime experience. They're all FAA certified and have over 100 years of experience combined, so you can be sure that you'll be in good hands.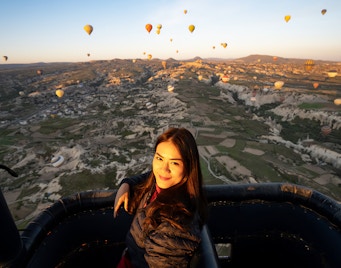 Spacious Cabins
The hot air balloons for your tour come with plenty of space. Th cabin will be divided into different sections and each section will only have a limited number of people. This is to ensure that you have a comfortable flight throughout the duration of your tour.
Other Attractions Near Cappadocia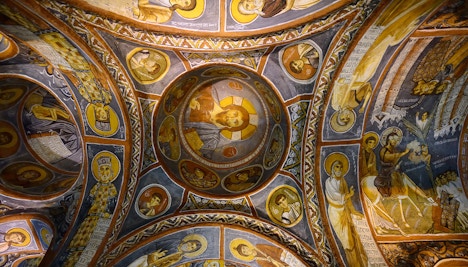 Churches of Göreme Open-Air Museum
Goreme Open-Air Museum houses the ruins of numerous churches that were chiseled into the famed Cappadocia stone. The Göreme Open Air Museum received UNESCO World Heritage Site status in 1985. The Göreme Open Air Museum features over 11 refectories and 15 churches. Best estimates place the construction of all the churches in the 11th century.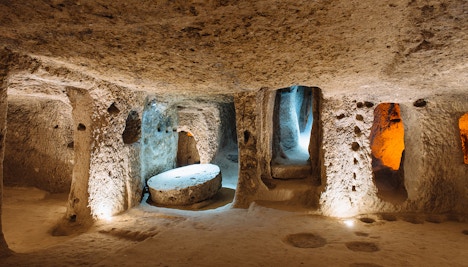 Kaymakli Underground City
Kaymakli Underground City is one of the best-preserved ancient underground cities and also one of the most important tourist sites in Cappadocia, Turkey. It provides visitors with an insight into the way people lived in this region thousands of years ago. Its wealth of history and engineering make Kaymakli Underground City a must-see for anyone interested in learning about the ancient world.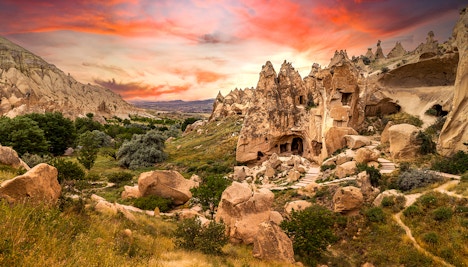 Zelve Open-Air Museum
Located in Cappadocia, Zelve Open-Air Museum is a unique open-air museum that includes several historic monuments and structures from different eras. The site consists of three connected valleys, two of which were inhabited until recently. It features houses carved into rock formations, along with churches, mosques, and other religious sites from the Byzantine period.
Frequently Asked Questions About Cappadocia Hot Air Ballon Flights
Q. How do I book Cappadocia Hot Air Ballon Flights?
A. You can book Cappadocia hot air balloon flights online.
Q. What is the duration of the Hot Air Ballon Flight in Cappadocia?
A. The duration of the hot air balloon flight depends on the tour you select. The flight can last for minimum of 1 hour and for some tours the flight duration is around 3 hours.
Q. What is the time for sunrise hot air balloon flight in Cappadocia?
A. The best time for a hot air balloon flight is at sunrise.
Q. What should I wear on my hot air balloon flight?
A. Comfort is key when it comes to selecting an outfit for your hot air balloon ride. We recommend wearing something light and comfortable, such as a t-shirt and shorts or jeans.
Q. How much does hot air balloon flight cost in Cappadocia?
A. Cappadocia Balloon Tour price for the 2022 starts from around €150.
More Reads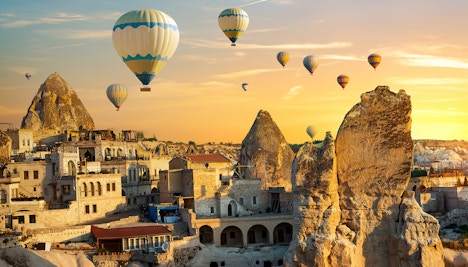 Cappadocia Seasons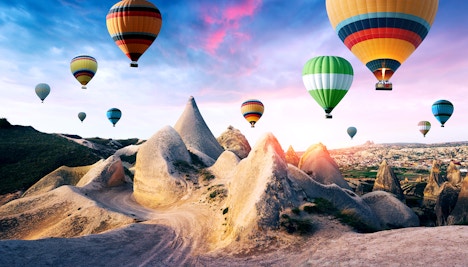 Hot Air Balloon Safety Features & Tips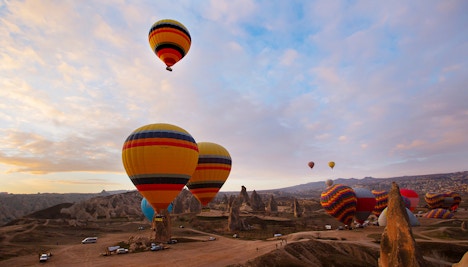 More about Cappadocia